With 10% of our workforce being veterans, we are now a proud supporter of Soldier On. Becoming a Gold Pledge Partner was the natural next step in formalising our commitment to supporting veterans.
When looking for a veteran organisation to support, we chose Soldier On because it is a not-for-profit organisation improving access to employment for Australian veterans. The programs they provide have positive effects on the wellbeing and welfare of veterans and, in turn, their families.
Being a Soldier On Gold Pledge Partner has formalised our commitment to building a veteran-friendly workplace. Through our work with Soldier On, we now have greater exposure to veterans seeking work in the aerospace industry and access to a framework ensuring our workplace is veteran friendly.
We are also providing financial support for Soldier On that will assist with the delivery of their vital mental health, wellbeing and education programs. Knowing that what we pledge directly benefits veterans is a gratifying way to give back.
This partnership is the newest charity endeavour we have undertaken and something our whole team is proud to support. It is vital for Soldier On to reach veterans of all skillsets, and we hope to continue supporting those in the aviation sector.  
As our General Manager Tony Cotroneo says: "Being a veteran myself, I understand the need for organisations such as Soldier On. It is an absolute honour to be part of a company that respects and supports the veteran community and, in doing so, pledges to assist where possible."
About Soldier On
Soldier On delivers holistic support services to veterans, including a range of mental health, wellbeing and education programs, and employment support. Additionally, Soldier On arranges social connection activities centred around the needs of the Australian veteran community.
The Soldier On Pledge is how organisations like ours demonstrate their commitment to providing employment opportunities for veterans and their families. Soldier On Pledge partners support the Soldier On Pathways Program, which currently assists over 3000 veterans and their families across Australia.
More broadly, Soldier On currently reaches more than one million Australian veterans and their families. Visit Soldier On for more information.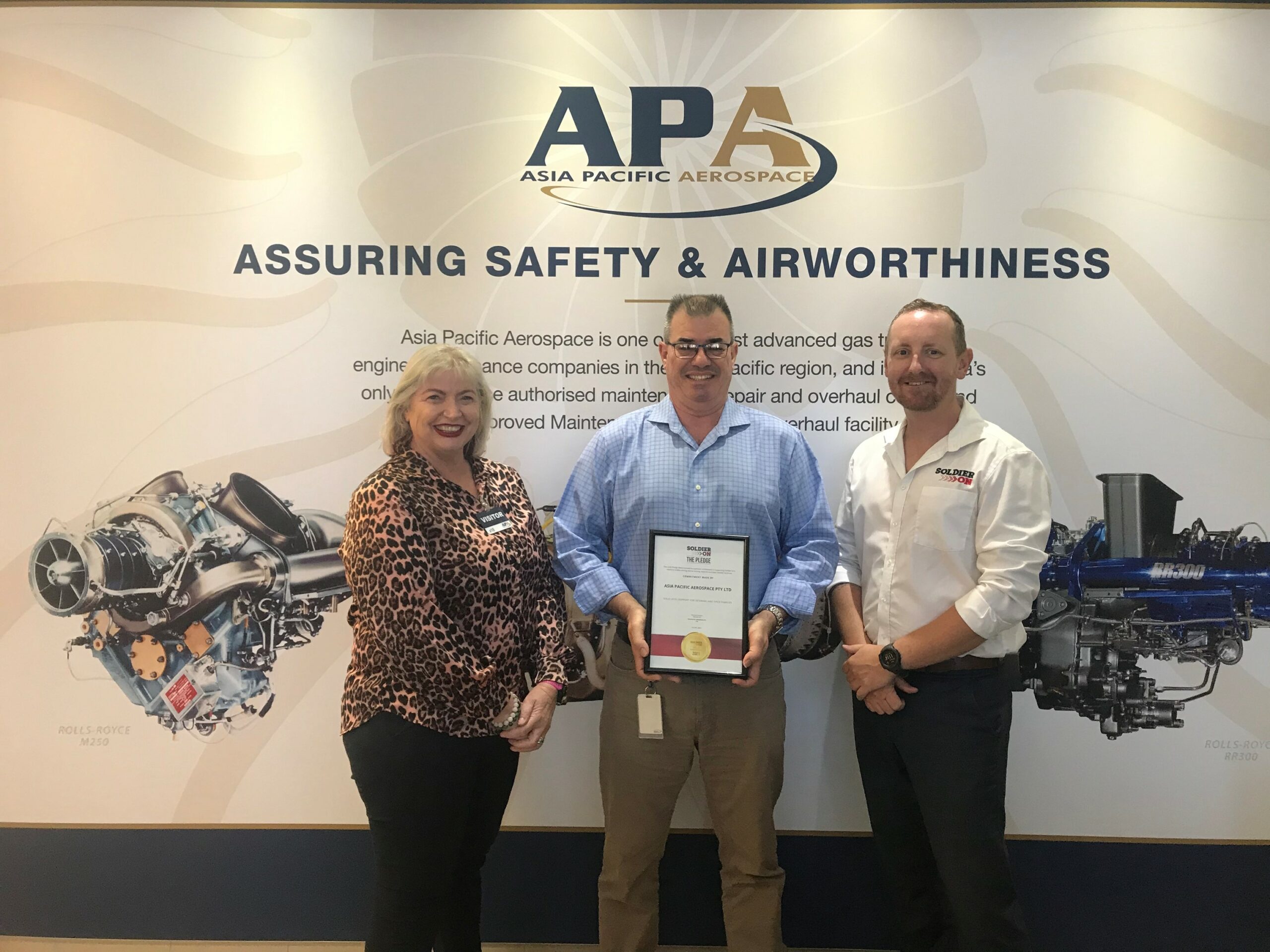 At APA, we are proud to support a diverse workforce. For more information about employment opportunities, contact us.
Related: Meet our first female apprentice